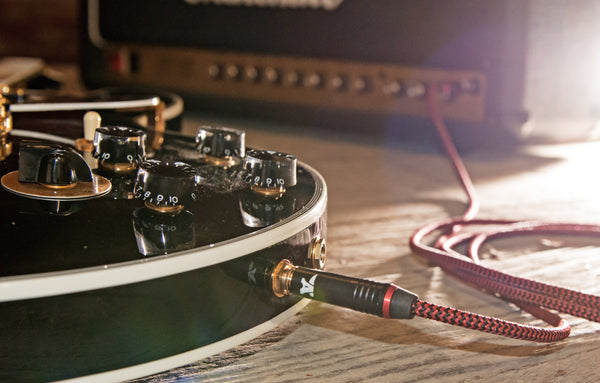 Our Story
Having been frustrated with the cheap quality and short life span of most guitar cables on the market; we decided to create something better. Our dream; to create top of the line guitar cables at an unbeatable price. Originating from Switzerland, our high quality standards have given us an incredible product. We are excited for you to try Amboz Cables and are certain you won't regret it.
Explore
Features
Design That Speaks Volumes
Craftsmanship with Character: Artistry Strung into Every Detail
Engineered for full spectrum & brilliant natural sound.
Ultimate Studio Flexibility
Optimized for freedom in the studio and on stage all while retaining interference protection.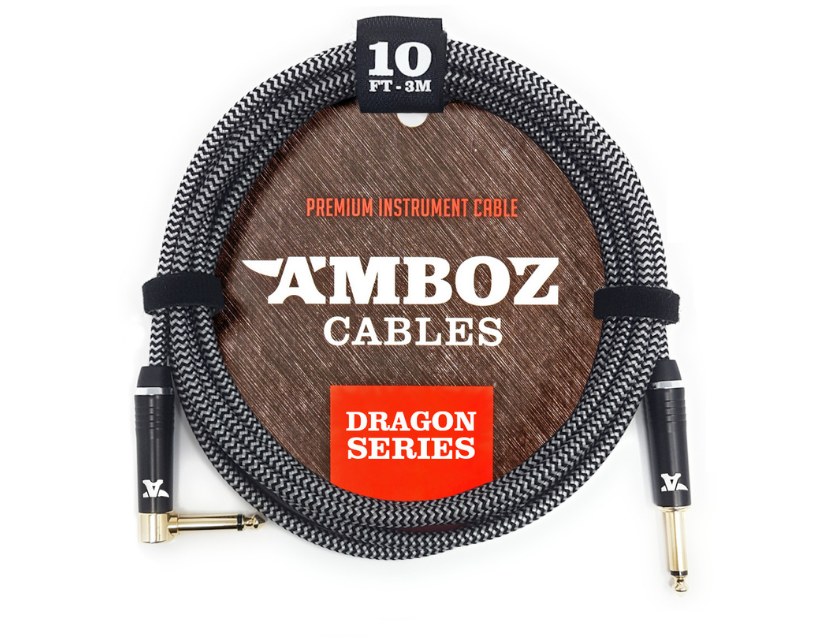 Sound
Crystal clear, with no coloration to the sound; Amboz cables are neutral and clean at both high and low frequencies. One of the best cables on the market with no humming or feedback. Tones and effects sound just as sharp as the most expensive brands out there.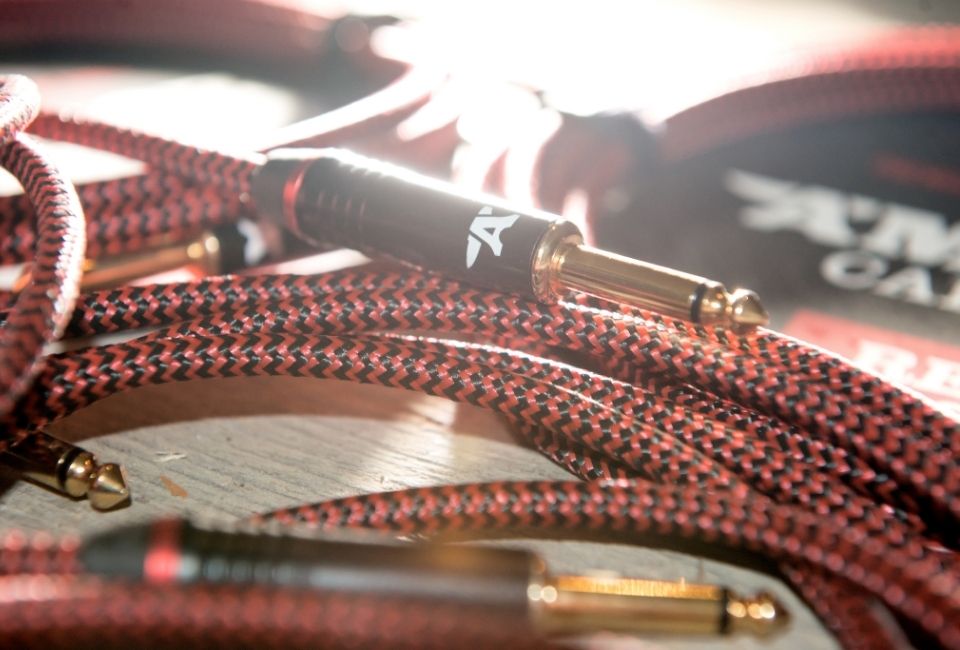 Look & Feel
Amboz cables are solid and durable. With an attractive and unique design, they follow you as you play, and coil easily afterwards. Not grabby like some rubber types or stiff like plastic varieties. Amboz cables are thinner than most other bulky cables on the market and are easier to transport.
Durability
High quality, unbeatable price, and a 3 year warranty. There are many cheap, low quality instrument cables out there. Make sure your high-quality guitar gets the cable it deserves! Put it through the hardest challenges and you will be blown away with what you hear. It does not breathe fire like the name suggests but it is a hot item to have.
Insulation

Polyethylene (PE)
First Shield

Conductive PVC
Second Shield

Stranded Copper Serve Shield 93%
Capacitance

40 pF/ft (120 pF/M)
Conductor Resistance

70 ohm/Km
Shield Resistance

45 ohm/Km
Punchy lows for electric upright bass
macdaddy
I'm so happy with this cord, I think I'll buy another one. Length is good for my upright electric bass. The capacitance rating is really good for my sound. Nice punchy lows and smooth mellow glissandos, just like I like it. Kudos to the copywriter for using proper spelling, grammar and punctuation. Congratulations to the engineer(s) who designed the cable. Good job to marketing on the name. "Red Dragon" carries the implication of red (already excited and full of energy) and dragon (powerful, nearly invincible, tough, and can take a lot of punishment, even if it is a fictional beast). Everywhere I look on this cable, I see decisions that have been thought out to the minutest degree. I like that kind of attention to detail. The build is solid. The materials are very good. The cloth covering's braided weave prevents the cord from getting twisted beyond usability, unlike so many of the plastic cords I have. And the braid just feels good. I did not receive any discounts for this review. I just wrote it. I've played bass for a long time (over 40 years) and this cord is very good for my needs. Oh yes, Dave in customer services, does a great job answering your questions.
Let the Red Dragon carry your fire! Supple alternative premium cable.
Brad Mock
I bought this 10 foot straight to angle Amboz Red Dragon cable on a promotional price as a spare for my main cable of several years "M" premium brand. After a favorable studio comparison with the "M" brand as well as the George L's I decided to make it my main choice for live gigging. All my basses sound great with this cable as do my guitars with no noticeable insertion loss on passive or active instruments. I like the supple feel compared to the "M" and other premium cables and would get more if other lengths were available. I also like the solid feel of the connector ends and the construction feels too notch.
Excellent cables, well shielded
R. Hill
Excellent cables, well shielded, flexible, hand soldered connectors done very well. Sound quality produced is great for recording or live gigs. A high quality cable is extremely important in relevance to sound quality because the entire guitar chain is only as good as it's weakest link. A good quality guitar sounds much better through a good quality amp but everything from pickups, strings, cables/wireless systems, even picks will affect sound quality and production. Using poor quality strings and/or cables with a good guitar and amp is like buying a high dollar sports car and putting a set of $99 tires on it. It's not gonna handle right and live anywhere near it's potential and defeats the purpose of buying the nice sports car! Bottom line is this cable is not going to be a weak link in your setup. It's amongst the best 5 guitar cables I've used IMO. Buy it, no hesitation.
Amazing Guitar Cable with outstanding design!
IceCreamGuy
This Red Dragon Guitar Cable is an excellent high quality guitar instrument cable. I have been using it as electric guitar cable as well as bass guitar cable. There are a lot of cheap low-quality instrument cables on the market but this one is different - it is really solid and durable. It sounds very neutral and clean both at low and at high frequencies. The design makes the Cable unique and special. Easily comparable with guitar cables like Kirlin, Fender, Ibanez, Monster or Whirlwind. Make sure if you play high quality guitars that your cables fit that same quality level. Fantastic 10 ft cable for this price.
Great cable, even better company.
Mapa
[UPDATE] Amboz got back to me shortly after my previous review, and totally took care of things free of charge. Rarely have I experienced customer service of this level. They sent me a new cable (which works, great) and were extremely courteous in their emails. Kudos guys. Now I would love to see your take on an XLR! [PREVIOUS REVIEW] I purchased 4 of these at once, for use in my studio running them from my synths to my interface- never taken out or gigged, just plugged into the synths and left stationary. 3 of them have held up great, but one of them developed an intermittent static that was driving me NUTS for about a month before I figured out where it was coming from. They seem well constructed and I love the look and material- maybe its a fluke or something. I hope Amboz shoot me a message, I'd be willing to try them again.
What caught my eye on the cable I purchased through Amazon were the connectors. They appeared to be really durable, and when I received the cable, they were really solid. And they used heat-shrink tubing that helps to hold everything together. What surprised me though, was the smaller diameter of the cable ... it's pretty skinny, and that would suggest a lighter wire gauge. And, I could never find anything telling me what the wire gauge was. It's a good cable, though. I used it at practice yesterday. One problem was trying to get the cable to lay flat. I finally managed that.
Free Shipping To Continental USA
30 Day Money Back Guarantee
Outstanding Customer Service
Secure Checkout Guarantee